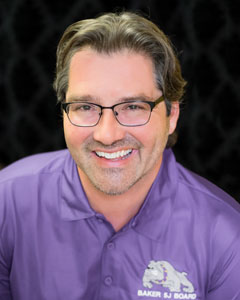 Andrew Bryan
All human beings have a purpose. The core of Andrew's work is to help "emerging" young adults discover their purpose through mentoring, career assessment and guidance, and international treks and pilgrimages. Working with students of all walks of life, including those who have experienced emotional, behavioral, and/or learning challenges, Andrew helps young people learn basic life skills through positive interactions with the world around them.
Andrew has developed an expertise working with students and their families to plan and implement transitions from therapeutic settings to home or college over his 30+ years as an educator mentor. Each student's success plan and ongoing support is individualized to provide for their unique interests and needs. Andrew engages directly with students and serves as a focal point in coordinating with both the student and the people they are additionally working with, as well as communicating with parents and referring professionals.
Andrew is a member of Independent Educational Consultants Association (IECA). He has worked with adolescents and young adults and their families since 1989. Throughout his career he has been interviewed and quoted nationally on education related topics in The Seattle Times, The Lawlor Review, Post-Secondary LD Report, Newsweek, US News and World Report, The New York Times, CBS Marketplace, CBS Network Radio News, SmartMoney Magazine, KUOW's Weekday, College Bound Teen, LATalkRadio with Dore Frances, the Homeward Bound parent call with Tim Thayne, and most recently The Baltimore Sun.
Andrew Bryan has worked with adolescents and emerging young adults for thirty years as a tutor, teacher, mentor, educational consultant and adventure guide. Andrew is increasingly sought out to provide advice and guidance for adults in transition desiring to live a more fulfilling life indicative of their core gifts. Andrew's gift is to help others set the stage for living a life of purpose. His Core Gift allows him to help individuals realize they have unique gifts, which they must develop and share in order to realize their dreams.
"While I have consistently travelled throughout my life, visiting all fifty states in the U.S. and more recently guiding treks and pilgrimages on any number of international walks, my fondest memories are always those of returning home to our family ranch in Western Kansas. To return to the land from whence I and my family come, to bring all the sites and sounds of the larger world back to a place most people simply pass by, reinforces what it means to call a place home."
"Trek Epic has combined my natural mentoring style as an educational consultant with the ability to engage with people while in adventure mode! The Trek Epic walking trek model has proven again and again to offer a seminal experience for young adults ready to take their next steps in life.
This engaging and interactive experience has given me the opportunity to not just "work" with students, but to develop and be a part of a community of people who have a powerful experience in common that continues to inform both the lives of trekkers and myself as a guide. To be a part of such a dynamic is an incredible capstone to a long a varied career of helping others find their way in the world."
"So many stories... But the Trek Epic Gap Year program has roots in the experience of a graduating senior who continually was not getting his college applications submitted, kept shifting the plan for his future, and toward the end of his senior year was not committed to a next step, though he had dedicated himself to writing poetry. He agreed to trek with our group in the U.K. and engaged in the core gift discovery process that proves pivotal for our participants as the facilitation unfolds while we are on trek.
"When he returned home he immediately bought a ticket back to London and arranged to do a WWOOF'er gig on a farm. When he had landed and was going through customs, he mentioned he would be "working" on a farm while in the U.K. The next thing he knew he was in detention and within a day put back on a plane home to the states. Lesson learned! A great plan gone awry. Instead of stalling out and falling into despair, he regrouped and worked through the winter at home, learning the trade of a stone mason and saving for his next trip abroad.
"In the spring, he joined a group of our trekkers from various trips on an advanced trek. The group had similar initial experiences, but were now taking even bigger steps together into their futures! Post trek, he spent several weeks traveling with friends from home who met him in Italy as we completed his walk with Trek Epic. The results were to start college in the fall, all the better for having taken what was nearly by accident a true gap year, a series of personal experiences bookended by facilitated treks that helped him move forward and grow!"
"Our trek on the Pembrokeshire Coast of Wales in the U.K. is a definite go to pilgrimage walk that is a great balance of nothing short of spectacular views and beaches, coupled with the culture of village life along the trail. The people are at once dedicated to living a quality life within their communities and connected to the land and a heritage that makes for a magical people and place!
"What makes your company unique? When were you especially proud of your team?
From our first walk on Offa's Dyke Path in Wales, we just knew in our bones that we had come across a experience that offered participants the opportunity to reflect within themselves about their futures and engage with others working toward the same questions: who am I, and what am I to be doing in the world! This experience, many years later, has impacted the lives of many, but what remains most enduring and remarkable is the community that has formed around Trek Epic."
"Recognizing the positive effects in what the company is doing to impact the world, even in the smallest ways, and continuing to explore ways to give more depth to what is working. Trek Epic has followed a model more about developing vertically what we know is making a difference in peoples lives, as opposed to endlessly expanding horizontally to simple provide more and more. There is a balance between the two, and we have consistently erred on the side of creating a program that takes individuals further along their path such that they have a strong identity and epic connection to the experiences they have had on trek!"